Are you planning to paint your front door and have no idea what color to choose?
I know how you feel. Our front door could use a makeover and I'm not sure which direction to go. I've scoured the internet for inspiration and am sharing some of the prettiest doors on the web, along with the colors used.
*
disclosure - This post contains affiliate links for your convenience. For full disclosure, go here.*
For all of the photos, I've researched the original source as much as humanly possible, and listed either the actual color
or
the one that matches the closest on my
Benjamin Moore color decks
.
Keep in mind that colors will vary on each computer screen, and the lighting and surrounding colors make a
HUGE
difference on how a color will appear. I can't tell you how many times a client has looked at a swatch after seeing it online or in a magazine and said that it looks nothing like the online image or magazine photo.
Tips for selecting your front door color
Bring what you can to the paint store to match with the swatches. For example, shingles, bricks, or anything else that won't be changing anytime soon.
Always look at the actual swatch against your siding, trim, roof, etc. to make sure it's the look you're after.
If possible, buy a tester sample and paint some on a board and place it where the door is so you can get an idea of how it will truly look. I love to sample paint colors on these boards that are lightweight and easy to move from place to place but are large enough to tell what the color really looks like.
Look at the sample at various times of the day, as well as on a cloudy day and a sunny day so you'll know exactly how it will change. Sunlight makes colors appear lighter, so be aware of that. Look at the very first photo below and you'll see an example.
Remember that it's only paint and if you don't like the color, a door is very easy to repaint!
I've tried to represent all colors, so if you don't see what you're looking for, keep scrolling. They're grouped together by color. Let me know which one is your favorite!
Front Door Paint Color Ideas
Don't you love this door with that built in doorbell? Our old house had one and it was so fun to ring it. The dark teal color looks great with the antique brass hardware.
Eclectic Entry by Tampa Photographers Mina Brinkey
Here's a classic cottage style door. The arched top and little window are so charming. And the antique bronze hardware gives it the perfect contrast.
Transitional Entry
by
Los Angeles Photographers
Stephanie Wiley Photography
Contemporary Entry
by
London Interior Designers & Decorators
Amory Brown
Eclectic Entry
by
Lindon Furniture & Accessories
Four Chairs Furniture
Traditional Exterior
by
Minneapolis Architects & Designers
TEA2 Architects
Traditional Entry
by
Memphis Interior Designers & Decorators
Jennifer Estes Interior Design
Benjamin Moore equivalent is Ocean City Blue
Benjamin Moore Down Pour Blue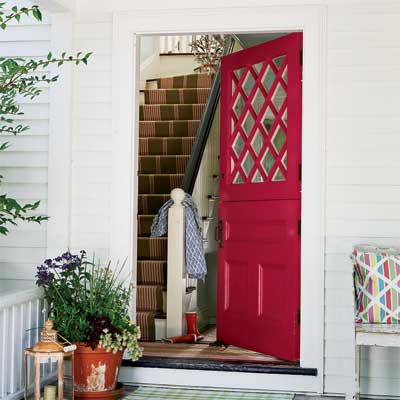 Benjamin Moore Raspberry Glaze
Benjamin Moore equivalent is Ruby Red
Door: Benjamin Moore Wildflower
Siding: Benjamin Moore Midnight
Benjamin Moore Equivalent is Conch Shell
Benjamin Moore Sangria
Benjamin Moore equivalent is Maple Leaf Red
Benjamin Moore equivalent is Rosy Apple
Benjamin Moore Orange Parrot



Benjamin Moore equivalent is Rumba Orange
Benjamin Moore Yellow Hibiscus
Door: Benjamin Moore equivalent is Yellow Marigold
Siding: Benjamin Moore equivalent is Dior Gray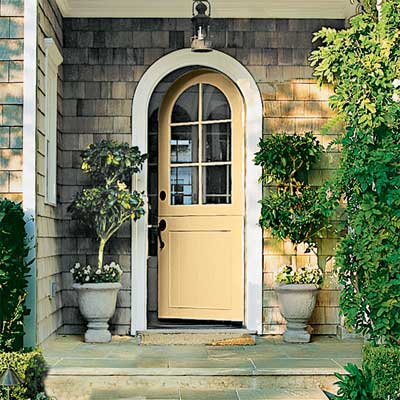 Benjamin Moore Golden Honey
Benjamin Moore Agave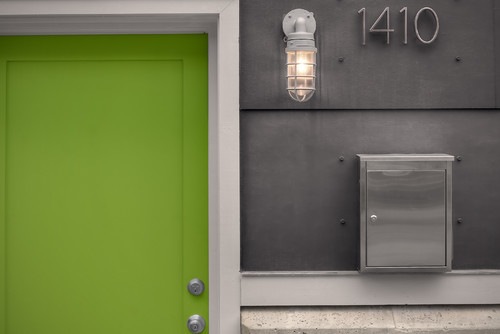 Benjamin Moore equivalent is Iguana Green
Benjamin Moore Tequila Lime



Benjamin Moore Herb Garden
Benjamin Moore equivalent is Blue Note
Benjamin Moore Black
That Million Dollar Red door is simply amazing. All of the other items make a perfect farmhouse front porch that anyone would feel welcome at.
I hope you've found some inspiration for your front door here. These are just a few of literally thousands of colors to choose from. The sky's the limit on what you could do.
See how NOT to choose a paint color in
this post
.
Want to see 9 no-fail neutral paint colors? Find them here:
Thanks so much for dropping by.